ACH Services &
Direct Deposit
Manage everyday payments and fund collections easily and efficiently.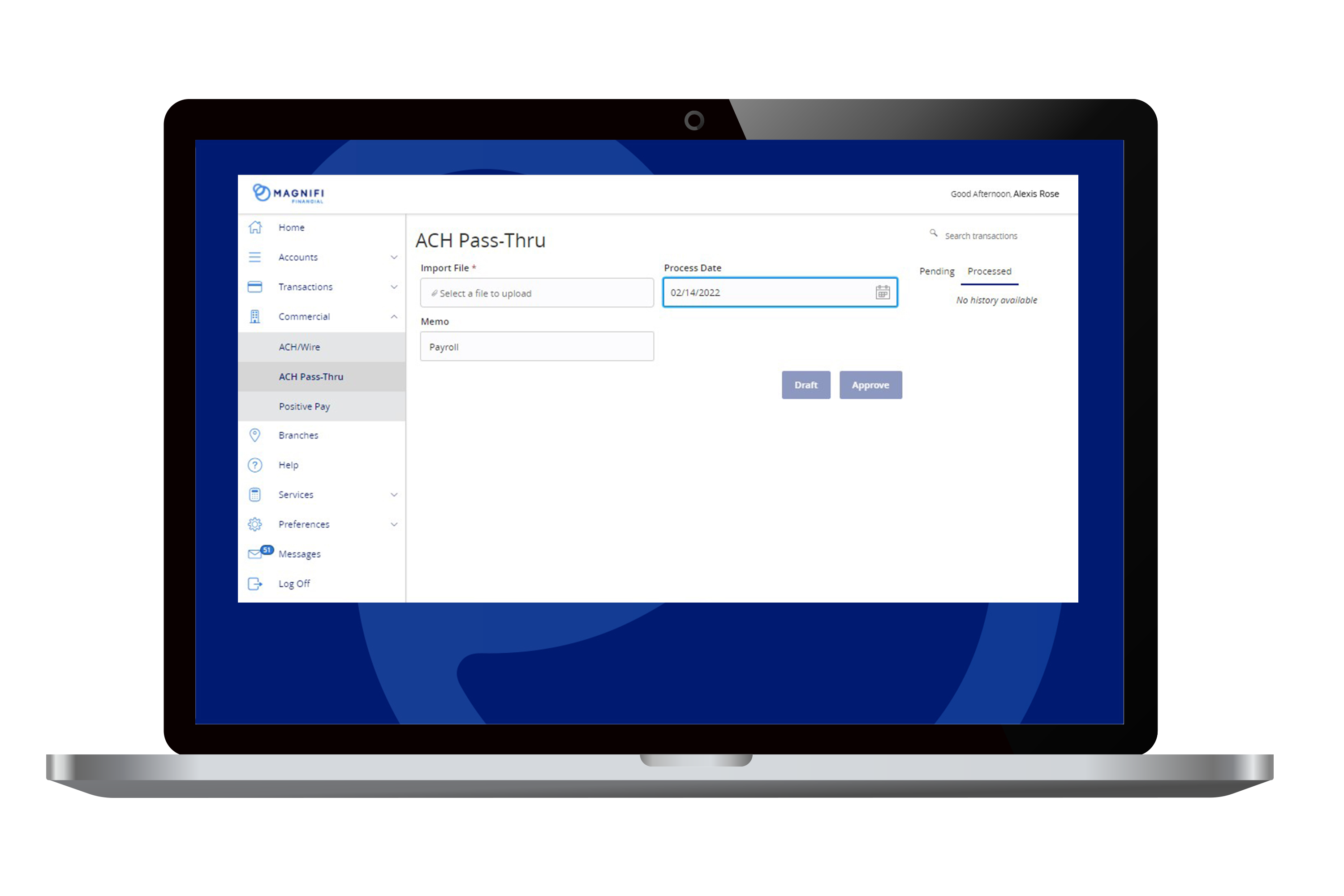 ACH Services & Direct Deposit
This convenient, affordable solution allows you to process transactions electronically so your money moves at the speed of your business. You can use ACH services in your Digital Banking account and mobile app to create one-time payments and to create templates to automate routine payments. Payments are transactions you create to pay or collect funds.
Same-Day ACH
Make expedited ACH payments on the same day they are drafted or approved. Our team will help set up your account and discuss the guidelines to follow.
ACH Templates
Templates help you reduce error rates, delegate tasks, and control regular payments.Templates make it easy for you to set up and use repetitive payments, including:
Payments to vendors and suppliers
Collections from customers
Direct deposit payments (does not include payroll management such as deductions or tax reporting)
Direct Deposit & Payment Collections
You can submit direct deposits or collect payments from others with the one-time or recurring ACH payments. Templates can be set up to create efficiencies in processing your payments.
Additional Features
Magnifi Financial's industry-leading multi-factor authentication ensures secure electronic delivery
Account alerts inform you about transfers, payments, and other transactions
Payments are processed with ACH (Automated Clearing House), eliminating paper checks, improving efficiency and cash flow management
Avoid the possibility of fraud as a result of stolen or altered paper checks
Subject to approval guidelines
Transaction Types
Each user has access to different Transaction Types. Depending on your account configuration, the available types can include some or all of the following:
ACH PassThru: Upload a complex NACHA-format file that includes multiple batches or non-standard SEC codes
ACH Payment: Send funds to multiple recipients through the ACH network
ACH Single Payment: Send funds to a single recipient through the ACH network
ACH Collection: Collect funds from multiple recipients
ACH Single Receipt: Collect funds from a single recipient
Payment from File: Import a list of recipients and amounts from a CSV file or import a balanced NACHA format file to create an ACH batch.
Direct Deposit: Send funds to multiple recipients through the ACH Network. Optionally split the total payment to each recipient between multiple accounts.
Domestic Wire: Send a wire transfer to a recipient in the United States
International Wire: Send a wire transfer to a recipient in another country

Contact Us
Fill out our online form with some information about your business and the products or services of interest. Your local Commercial Banking Officer will be in touch within 1-2 business days.

Locate a Branch

You can open a business account or loan at any Magnifi Financial location. Each location has a designated Commercial Banking Officer, but we recommend you call ahead to make an appointment.

Call Us
We have a dedicated phone line for business members which will help you reach someone who can help faster and save you precious time.
Other Business Cash Management Services

Join the Magnifi Family!
At Magnifi, you're not just a member-owner of an award-winning credit union, you become part of the Magnifi family and receive all the benefits and perks you need to succeed financially.
Am I Eligible?
Become a Member