Magnifi Financial Foundation®
SUPPORTING OUR LOCAL COMMUNITIES
The Magnifi Financial Foundation® funds initiatives that make a significant long-term impact on the betterment of Magnifi Financial Credit Union's members and the communities we serve.
Scroll down for more information.

Make a donation a $10 donation to the Magnifi Foundation.
Businesses can also join by donating $50 to Magnifi Foundation.

Donate Now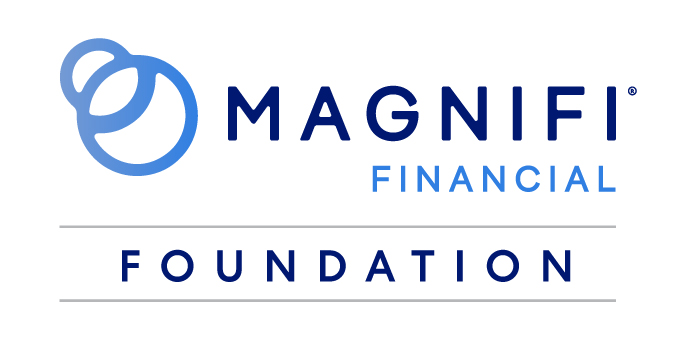 About Magnifi Financial Foundation
The Foundation has the unique position of being backed by a credit union with over 80,000 members, over 400 employees, and a vast field of membership throughout Minnesota and into North Dakota and Wisconsin. With this strength, the Foundation directly invests in initiatives that enhance the lives of members and communities.
---
Supporting Local Communities & Initiatives
2015
St. Cloud, MN schools: $5,000
2016
Small community police departments submitted requests for donations with a description of the project the donation would fund. The Foundation was able to donate to the following police organizations:
Albany Police Department: $1,000
Belgrade Police Department: $500
Moorhead Police Department: $1,000
Long Prairie Police Department: $1,000
Osakis Police Department: $1,000
Paynesville Police Department: $500
Wadena Police Department: $500
A matching donation was made to Coborn's Cancer Center: $1,300
2017
Six area fire departments submitted a letter requesting funds from the Foundation for various department and community needs. The requests were reviewed and based on the Foundation's mission of funding initiatives that make a significant long-term impact towards the betterment of the credit union's members and the communities we serve, the funds will be distributed as follows: 
Melrose Fire Department: $1,000
Long Prairie Fire Department: $1,000
Albany Fire Department: $1,000
Holdingford Fire Department: $1,000
Sauk Centre Fire Department: $1,000
2018
Donations were made to local schools for the purchase of technology for the classrooms. Donations were used to provide further access to using technology to support learning across all educational platforms
Melrose Area High School (Security): $1,000
Holdingford High School (Playground): $1,000
Wadena-Deer Creek High School (Sunshine Program): $1,000
Long Prairie-Grey Eagle Elementary School (Leveled Reading Program): $1,000
New London/Spicer Schools (Versa-Balls): $750
Little Falls High School (Kare Kloset): $750
Little Falls High School (Special Education Project-Auto Detailing): $500
Avon Elementary (Robot Technology): $1,000
Albany Area Middle School (STEM Program): $1,000
Additional funds were distributed to local community organizations: 
Anna Marie's Alliance: $500
Habitat for Humanity: $500
2019
The Foundation was pleased to announce the partnership with local schools matching donations up to $5,000 each. The donations benefitted performing arts initiatives.
Albany Area Schools: $5,000
BBE Area Schools: $5,000
Wadena-Deer Creek Area Schools: $5,000
2020
The Foundation was proud to partner with local organizations to provide needed funds to offset the costs of COVID-19 pandemic expenses, equipment, events, registration fees, transportation, uniforms, and various other activities.
Mother of Mercy Foundation (matching grant with Blattner Energy): $8,500
Sauk Centre Melrose Area Special Olympics: $1,500
Boys & Girls Clubs of Central Minnesota: $5,000
Empowering Kids Program in Perham: $2,500
Kinship of Perham Area: $2,500
2021
The Foundation was pleased to offer donations to local organizations which also support their local communities in a variety of needs.
Nicholas P. Koenig H.E.R.O. Foundation: $5,000
Hands of Hope Resource Center: $5,000
Pathways 4 Youth: $5,000
Someplace Safe: $5,000
2022
Magnifi Financial Foundation was excited to support local organizations with the following community projects:
Melrose Bridge Project (revamping the park with new playground equipment, upgrades to the trails, a kayak/canoe launch, and a fishing pier): $7,000
Park Shelter by Ampe Park in Paynesville: $7,000
Playground at the Lions Park in Sartell: $7,000
Perham Lions Club installing a public commons area and restroom in downtown Perham: $2,000
---
Membership in this credit union is composed of those persons who live, work, worship, volunteer, attend school or conduct business in and businesses and other legal entities in: Anoka County, Minnesota; Becker County, Minnesota; Benton County, Minnesota; Carver County, Minnesota; Cass County, North Dakota; Chisago County, Minnesota; Clay County, Minnesota; Crow Wing County, Minnesota; Dakota County, Minnesota; Douglas County, Minnesota; Grant County, Minnesota; Hennepin County, Minnesota; Kandiyohi County, Minnesota; Isanti County, Minnesota; McLeod County, Minnesota; Meeker County, Minnesota; Mille Lacs County, Minnesota; Morrison County, Minnesota; Otter Tail County, Minnesota; Pierce County, Wisconsin; Pope County, Minnesota; Ramsey County, Minnesota; Richland County, North Dakota; Scott County, Minnesota; Sherburne County, Minnesota; Stearns County, Minnesota; St. Croix County, Wisconsin; Todd County, Minnesota; Wadena County, Minnesota; Washington County, Minnesota; Wilkin County, Minnesota; Wright County, Minnesota, and those who are employed by the Soo Line Corporation; the CP Rail System who reside in the United States; employees of Old Dutch Foods; Amtrak; Lakes Gas Company; Office Max in the Dist. Of MN; Kannegiesser Farms, Inc., Hancock, and natural persons who are members of the Magnifi Financial Foundation, Melrose, Minnesota.

Join the Magnifi Family!
At Magnifi, you're not just a member-owner of an award-winning credit union, you become part of the Magnifi family and receive all the benefits and perks you need to succeed financially.
Am I Eligible?
Become a Member