Home Equity Line of Credit
(HELOC)
Access the equity you have invested in your home for the big purchases in your life.
Open a line of credit with the equity you have invested in your home! Use the account for house projects, college tuition payments, debt consolidation, vacation, and more! You'll be able to access your HELOC easily with your Magnifi Financial checking account and internet banking or the mobile app. Work with a Personal Banker to determine the perfect amount of credit you can utilize.
Apply Now
What's the Right Loan for Me?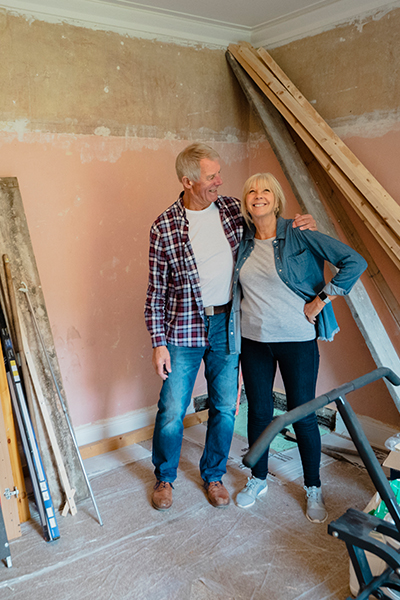 What's so special about our Home Equity Line of Credit?
A HELOC is a line of credit that is backed by the equity you have already invested in your house. So, if you have $100,000 paid off in your mortgage, you already have equity totaling $100,000!
Many people use a HELOC for home improvement projects or remodeling their house. But did you know you can use your HELOC for any large purchases? This means you can utilize your HELOC for tuition payments, buying a car, consolidating debt or a much-needed vacation!
Your HELOC is competitively priced and is subject to change quarterly in accordance with the Wall Street Journal Prime Rate at a specified margin**. Talk to a Magnifi Financial representative about current rates.
Withdraw funds from your line of credit for 10 years while making monthly payments; the following 10 year period you pay back the remainder of the amount you withdrew. Your HELOC acts like a revolving line of credit. So, you can continue to use the line of credit over and over while making payments during the first 10-year draw period. You make payments and pay interest only on the amount that you spend.
Each withdrawal is amortized over the remaining life of the loan, draw and repayment period. You may make additional payments to pay down the balance faster.
$40 per year (1st year fee is waived). You can use this line of credit over and over during the draw period.
Access your HELOC with paper checks for any expense you may need. Access your funds 24/7 with internet banking or the mobile app.
If you are using money for home improvements, your home's equity value may increase while using the house equity to pay for it!
Process
Applying for a Home Equity loan is easy
Apply
Your first step is to fill out an application. We'll reach out if we need additional information.
Underwriting
We're on it! Your application is safe with our local underwriting team who have streamlined the process, providing you with faster closing times.
Closing
We'll meet with you to finalize all the details and set up your line of credit in your Magnifi Financial account.
Use your HELOC
This is the fun part! After your HELOC is approved, start accessing your funds for just about anything!
Frequently Asked Questions (FAQ)
Eligibility and Application
Great question! Joining Magnifi Financial is quick and easy. You are eligible if you live, work, worship, go to school, conduct business or volunteer in one of the counties of our field of membership. Once you open an account with us, you will open a one-time $5.00 "Share" account, making you a member of Magnifi Financial and equal owner of our credit union. If you ever decide to close your account, you will receive your $5.00 deposit back.
Learn more here.
After we receive your application, we evaluate your information. Our friendly and knowledgeable personal bankers will walk you through the whole process to ensure you are comfortable with the terms of your home equity line of credit.
The credit limit you receive will depend on the amount of equity in your home, your credit history, your property location and your loan-to-value ratio (LTV). This is the relationship between your current mortgage loan balance and the value of your home.
Accessing Your Line of Credit
After the "right of rescission" period (three business days) have passed, you will be able to access your line of credit. Your personal banker can help you with any questions you may have about accessing your line of credit.
You can advance the funds through several methods:Internet Banking, Mobile App or over the Phone. Transfer funds from your HELOC account into your Magnifi Financial checking account. Then make payments as normal with your checking debit card or paper checks.
Yes! You can access your HELOC funds to pay off other balances such as credit cards. Or we can combine those other balances into your home equity line of credit which would return the other balances to zero and you would only need to make one monthly payment.
Closing
It takes approximately 30 days to close on your HELOC after your application has been submitted. This includes the time it takes to submit additional documents and the underwriting process.
You will have the opportunity to review and sign your line of credit documents. After you sign the documents, you will receive three business days to change your mind and cancel your line of credit. This three-day period is called your "right of rescission." After these three days have passed, you will be able to access funds from your new HELOC.
Payments
Your monthly payments will vary because your HELOC is based on a variable rate.
During the draw period: Your minimum monthly payment will include principal and interest and amortized over the length remaining of your HELOC terms. During the repayment period: Your monthly payment will be a combination of principal and interest.
The interest rate for your HELOC is in accordance with the Wall Street Journal Prime Rate at a specified margin. So, if the Wall Street Journal Prime Rate fluctuates, your HELOC rate may also fluctuate on a quarterly basis. This may affect your minimum monthly payment amount.
You can make more monthly payments than you are required or you may pay an additional amount with each payment. You will not be penalized for early or additional payments.

Apply Online
New Members: Complete an application online.
Apply Now

Local Branch
Magnifi Financial has 25 branches to serve you as well as access to 24,000 ATMs across the United States with MoneyPass.


View Locations

Video Banking
Talk to a Magnifi Financial team member virtually face-to-face. Learn More
Monday - Thursday: 8 AM - 5 PM
Friday: 8 AM - 6 PM
Saturday: 8 AM - 12 PM
Start Video Call
The typical cost of an appraisal or full title commitment is $50-$1,500 which would be the member's expense. Annual Percentage Rate = 8.50% as of 7/27/2023. APR may vary after account is opened but will never exceed 18%APR or the maximum allowed by law. Annual fee = $40. Membership eligibility and $5 share deposit are required. Borrower must maintain adequate property insurance. On approved credit. Ask for details.

Join the Magnifi Family!
At Magnifi, you're not just a member-owner of an award-winning credit union, you become part of the Magnifi family and receive all the benefits and perks you need to succeed financially.
Am I Eligible?
Become a Member