Financial
Tools
Managing your money has never been easier.
Magnifi Financial's personal financial management solution is integrated with digital banking, providing a seamless and secure set of tools to manage and understand your finances.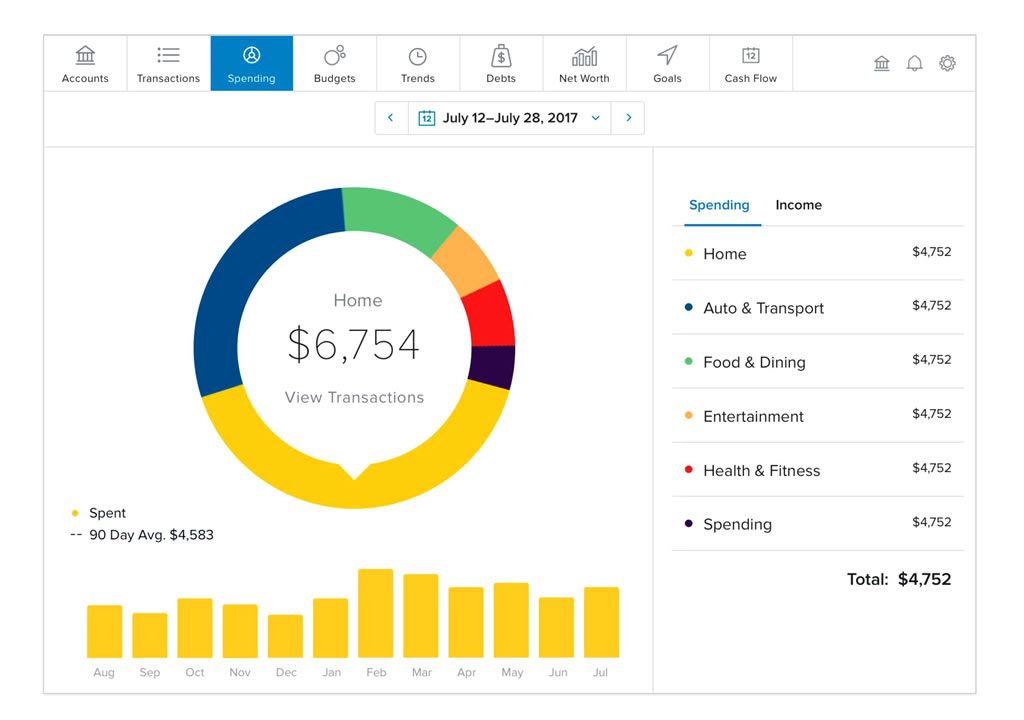 How to Use Personal Financial Management (PFM)
Once you log in to digital banking, locate the financial tools section.
Click get started, complete the approvals, and you are ready to use these tools and more.
Link Accounts — Easily connect external accounts such as credit cards, loans or investments and view their balances and transactions within Magnifi Financial Digital Banking.
Spending — Categorize all your transactions and track your spending habits across all of your linked accounts.
Budget — Create a plan for your money. Digital banking will remember how you categorize your transactions and assign them to the correct budget category.
Trends — Track your categories over time and identify areas where you can streamline your finances.
Cash Flow — Monitor your current available funds and plan for upcoming payments and charges to anticipate your future available funds.
Net Worth — See the big picture! View a breakdown of your Magnifi Financial and linked accounts, assets and liabilities.
Debts — View your existing debts like loans and credit card balances, and create a personalized pay-off plan.
Frequently Asked Questions
General
You can access PFM by clicking Get Started on the Financial Tools bar at the top of your digital banking home page.
Yes, PFM can be accessed on your My Magnifi Financial mobile app or desktop computer.
PFM is a free feature offered through Magnifi Financial's Digital Banking.
Accounts
Transactions
You can categorize any transaction that is less than 90 days old. Click on the icon between the date and description of the transaction and choose the appropriate category.
Over time, the system will learn the user preference for the transaction category and assign the correct category.
While the PFM tool allows you to see balances and transactions to be included in the Financial Tools, to transact on an account outside of Magnifi Financial, you will need to add that account to the External Accounts under the Transaction menu item.
Financial Tools
You can remove any debt included in the debt widget by clicking on the account you wish to remove, then click the three dots in the top corner of the page and "Hide from Debts."
Manually enter your monthly payment, interest rate, and balance to track when you will be debt-free.
You can remove any transaction from a budget by clicking into the budget, click on transactions, click on the specific transaction, click the three dots in the top corner, and exclude.

Join the Magnifi Family!
At Magnifi, you're not just a member-owner of an award-winning credit union, you become part of the Magnifi family and receive all the benefits and perks you need to succeed financially.
Am I Eligible?
Become a Member