My
Credit Score
Powered by SavvyMoney®
Stay on top of your credit score with daily updates, full credit reports, and more.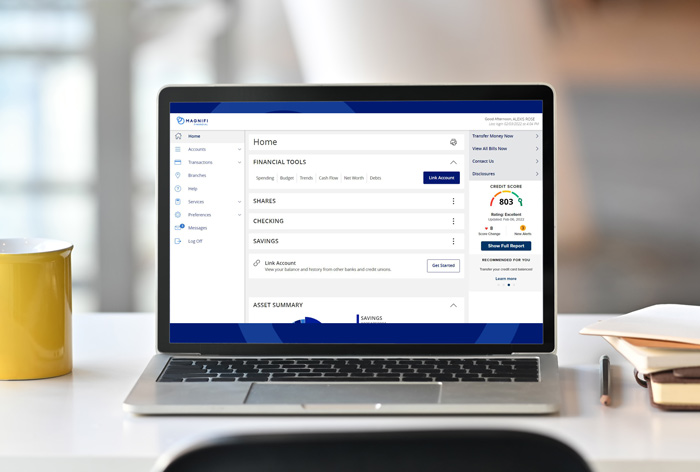 My Credit Score is a free service available to Magnifi Financial members enrolled in digital banking.
Key benefits include:
Access your credit score anytime and anywhere
Protect your identity by reviewing your credit report
Improve your score with in-app suggestions
Save money with personalized recommendations from Magnifi Financial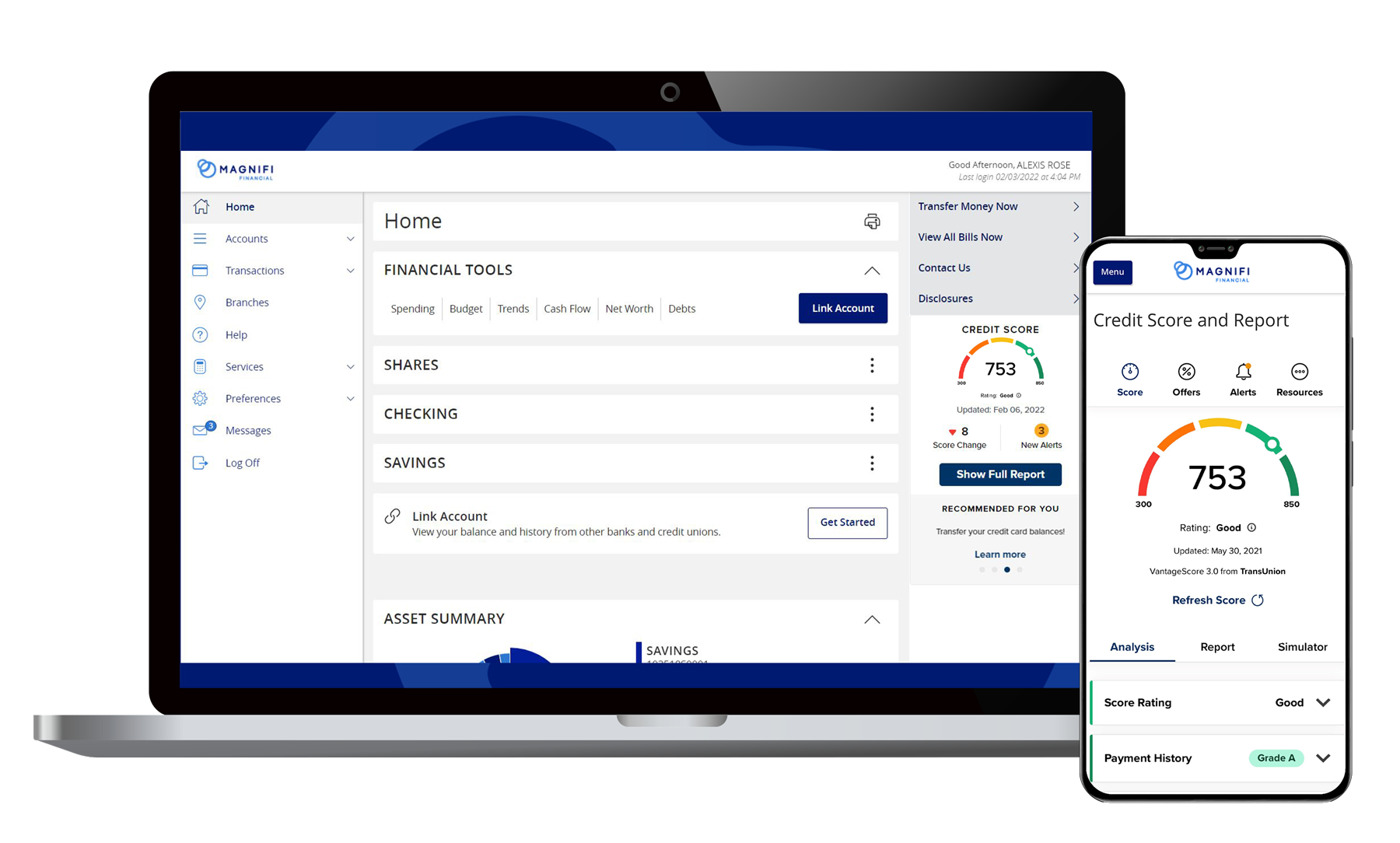 Credit Score
Log in to Digital Banking and update your score as often as every 24 hours to stay up to date on your credit score status.
Credit Report
Look at the in-depth picture of the information and accounts reviewed when building your credit report. Easily submit disputes if there is inaccurate information.
Credit Score Simulator
Simulate different actions like a new loan or inquiry and see how they could impact your credit score.
Personalized Offers
Find ways to lower your interest rates and save money with Magnifi Financial offers tailored to you.
Getting Started
To get started you must be enrolled in digital banking and sign up for My Credit Score.
Once you have signed up, My Credit Score will always be available when you log in to Magnifi Financial Digital Banking!
Sign in to Digital Banking

Locate and click My Credit Score

Enter date of birth and accept terms and conditions
On Mobile
On the mobile app, click the My Credit Score quick button located at the top of the main page. Enter your date of birth, accept the terms and conditions and you are ready to go.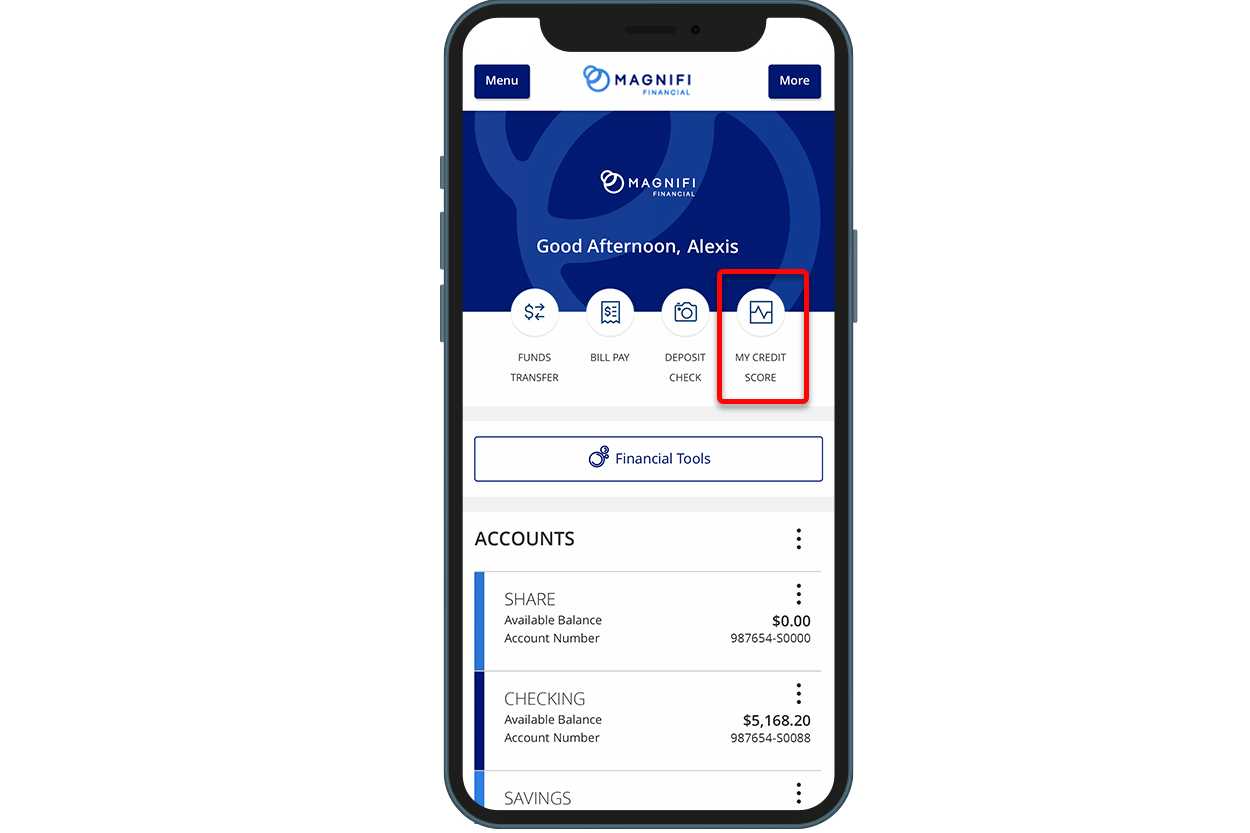 On Desktop
In online banking, click the Show My Score button in the right-hand column below the credit score dial. Enter your date of birth and accept the terms and conditions.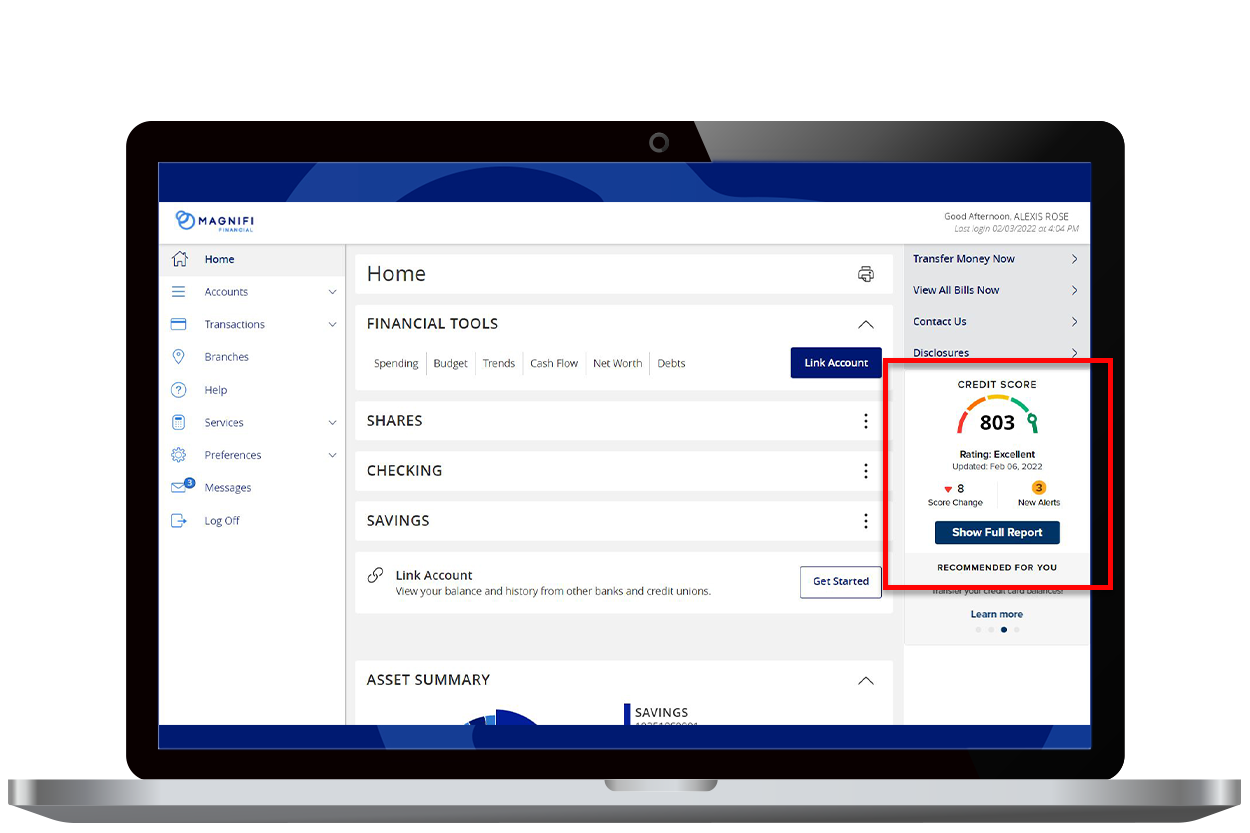 My Credit Score FAQs
My Credit Score powered by SavvyMoney® is available through Magnifi Financial online and mobile banking to Magnifi Financial members over the age of 18. My Credit Score is a free service offered to help you understand your current credit score, give access to your full credit report, provide credit monitoring alerts, show you how you can improve it and see ways you can save money on new and existing loans with Magnifi Financial.
My Credit Score
My Credit Report
Lending/Offers
Security
General

Join the Magnifi Family!
At Magnifi, you're not just a member-owner of an award-winning credit union, you become part of the Magnifi family and receive all the benefits and perks you need to succeed financially.
Am I Eligible?
Become a Member