Mobile
Security
Phones have become one of the most important accessories you own and one of the essential items you can't leave the house without.
Your phone may also contain an abundance of personal information such as passwords, contacts, photos, login information and more. It's imperative that your phone is safe and secure so you can use it with peace of mind.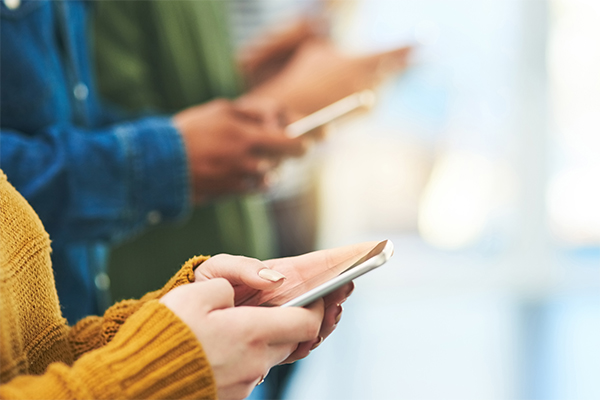 Phone scams are popular for fraudsters to try and capture your personal information
You should never share your account information such as your pin number or login information to access your accounts online. Magnifi Financial personnel will never call to ask you to provide a card number, account number, pin number or social security number.

If you are ever uncertain that you are speaking with someone from Magnifi Financial, just hang up and call us at (888) 330-8482.

If you receive any suspicious texts or emails from Magnifi Financial, do NOT click on the links. 

Your security is in our best interest and we will do everything we can to make sure your account information is safe and secure.
Did you know?
The Magnifi Financial mobile app is now the same platform as our internet banking. So you can have a seamless experience on any device.
Simply log into the mobile app with your Internet Banking credentials.
Learn More
Tips for Mobile Security
Let's make sure you're taking the recommended steps to secure your phone and the information it holds.
Watch your phone - don't leave it sitting on a table in a public space where someone could take it or access it.
Do not modify or download an app you can't get from an app store. And don't break the manufacturer's settings (like jailbreaking your phone).
If you have a hard time remembering your passwords, protect them by saving using a secure password management software.
Always use biometrics login when it is available (such as a fingerprint or facial recognition).
Only connect to secure Wi-Fi. Don't use public Wi-Fi or Bluetooth.
Keep your phone secure by always installing patches or updates when they are available.
File a Complaint
If you are a victim of an internet crime contact us immediately. Then, report the crime to the Federal Bureau of Investigation Internet Crime Complaint Center (IC3). 
Report A Scam
If you have received an email, phone call or text from an imposter, file a complaint at the FTC Federal Complaint Assistant.



Join the Magnifi Family!
At Magnifi, you're not just a member-owner of an award-winning credit union, you become part of the Magnifi family and receive all the benefits and perks you need to succeed financially.
Am I Eligible?
Become a Member