Identity 
Theft
Identity theft occurs when someone obtains your personal information, such as social security number, date of birth, address and financial account numbers. Once this information is obtained, the thieves will assume or take on your identity, allowing them to illegally purchase items or obtain credit. These acts can damage your credit and you may not know you have become of victim of ID theft until you suffer financial consequences such as a mysterious bill or loan denial.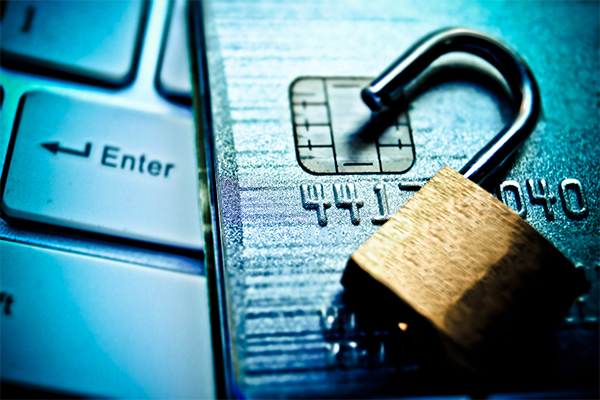 Protect yourself from ID theft.
Do not share your financial account information or Social Security numbers unless you know the person requesting the information is who he or she claims to be.
Store your personal information in a safe place, and tear up or shred old credit card and ATM receipts, old account statements, and unused credit card offers before throwing them away.
Create complex PINs and passwords. Change your passwords if a company that you do business with has a breach of its databases. Don't share your PINs and passwords with anyone that does not have access to the account.
Limit the identification you carry. Take only the identification, credit, and debit cards you need and leave your Social Security card at home.
Watch out for "shoulder surfers." Shield the keypad when typing your passwords on computers and at ATMs. 
Pay attention to your billing cycles. Contact the credit union if you do not receive a monthly bill. It may mean that an identity theft diverted the bill. Sign up for electronic statements to minimize risk.
Check account statements carefully and regularly (within 30 days). Ensure that you authorize all transactions on the statement.
Guard your mail from theft. Take outgoing mail to post office collection boxes or the post office. Remove incoming mail promptly. If you will be away have the post office put a hold on your mail.
Order your credit report once a year and review it to be certain that it doesn't include accounts that you have not opened. Consumers are entitled to one free credit report from each credit reporting agency annually. 
Opt out of pre-approved credit cards, direct mail lists and telephone solicitation. To opt out, call 1-888-567-8688 or go to optoutprescreen.com.
Did you know?
Consumers are entitled to one free credit report from each credit reporting agency annually.


What to do if you are a victim of identity fraud
Call the companies where you know the fraud occurred.
Call the fraud department and explain that someone has stolen your identity. Ask them to close or freeze the accounts. Then, no one can add new charges unless you agree.
Change logins, passwords, and PINs for your accounts.
Place a fraud alert and get your credit reports.
To place a fraud alert, contact one of the three credit bureaus. That company must tell the other two. A fraud alert is free and it will make it harder for someone to open new accounts in your name.
Credit Bureau Contact Details
To get your free credit report from Equifax, Experian and TransUnion go to:
www.annualcreditreport.com or call 1-877-322-8228
Credit bureaus must provide free copies of credit reports to victims of identity theft. Review your reports. Make note of any account or transaction you don't recognize. This will help you report the theft to the FTC and the police.
 
Report the Identity Theft to the FTC
Go to IdentityTheft.gov or call 1-877-438-4338. Make sure to include as many details as possible.
Based on the information you enter, IdentityTheft.gov will create your Identity Theft Report and personal recovery plan.
You may also want to order new credit or debit cards for any accounts involved in the theft. Or, you may want to close the accounts altogether.
For more information on what to do next visit the Federal Trade Commission's identity theft center, or call the identity theft hotline at 877-438-4338. 
File a report with your local Police Department
If you choose to file a report you can go to your local police office with:
A copy of your FTC Identity Theft Report
A government-issued ID with a photo
Proof of your address (mortgage statement, rental agreement, or utilities bill)
Any other proof you have of the theft—bills, Internal Revenue Service (IRS) notices, etc.
Tell the police someone stole your identity and you need to file a report. Ask for a copy of the police report. You may need this to complete other steps.
File a Complaint
If you are a victim of an internet crime contact us immediately. Then, report the crime to the Federal Bureau of Investigation Internet Crime Complaint Center (IC3). 
Report A Scam
If you have received an email, phone call or text from an imposter, file a complaint at the FTC Federal Complaint Assistant.

Join the Magnifi Family!
At Magnifi, you're not just a member-owner of an award-winning credit union, you become part of the Magnifi family and receive all the benefits and perks you need to succeed financially.
Am I Eligible?
Become a Member