Person-to-Person Payments
(P2P)
Sending money to people you know is easier with person-to-person payments.
Need to send money to a friend or family member quickly? Magnifi Financial's new solution for person-to-person payments has arrived!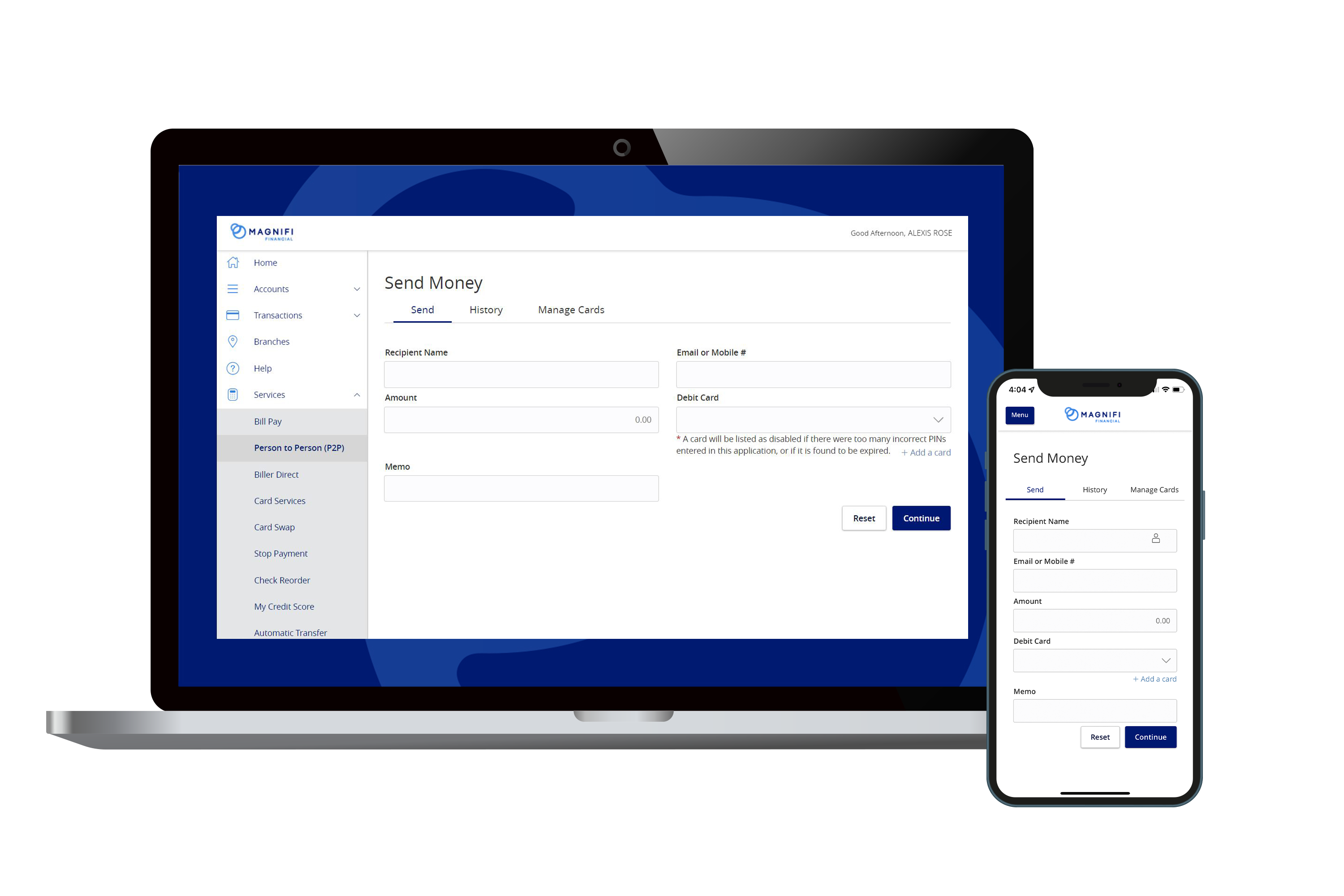 FAST
Recipient in participating network receives funds to his/her account in near real time
No intermediary accounts required
Funds can be received across US networks and financial institutions
SECURE
Every transaction is securely authorized before execution
Funds don't leave the financial institution until they are sent to the recipient
Multiple risk mitigation tools like patented scrambling PIN pad and limits
EASY
Accessible via Digital Banking and Magnifi Financial's mobile app
No recipient registration required
Recipient is notified via text or email
Since funds are immediately available for the recipient to claim, please only send funds to your personal family members or friends. If you think you have been part of a scam, please contact Magnifi Financial immediately.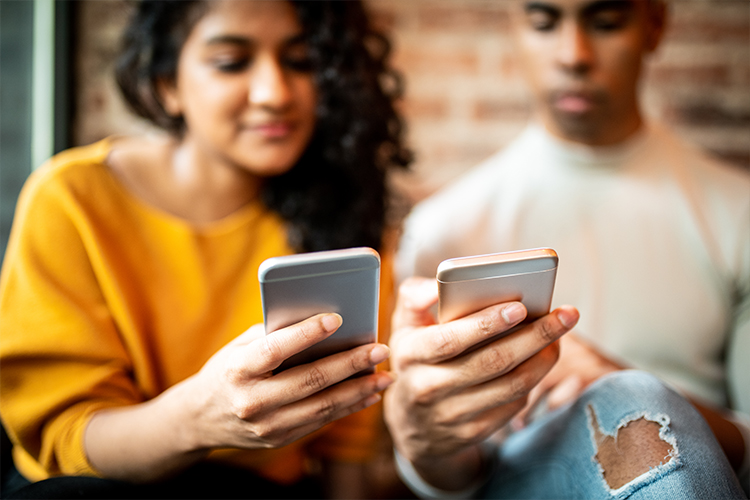 This is how P2P Works:
Send Funds
Simply

Designate the recipient by
phone # or email

Choose recipient from contacts
on your mobile device

Choose payment source from
associated debit card account

Send Funds
Securely

Authenticate the payment
with a secure PIN

The sender reviews and
confirms the payment

Receive Funds
Promptly

Accept funds via email or text

Receive funds via
Debit Card* or ACH

No recipient
enrollment required

You're
Done!

You have completed a
P2P funds transfer

Continue to access P2P on
Digital Banking and the
Magnifi Financial Mobile App
* Recipients on supported networks
Person-to-Person (P2P) Frequently Asked Questions
How do I register for the service?
Log into your digital banking account via your desktop browser or mobile app. Go to the menu on the left side and click on "Services," then "Person-to-Person (P2P." When you access P2P for the first time you will accept the service terms and conditions.
The system will use the information on file within digital banking to create your user profile. You will then be asked to enter your debit card number along with the expiration date and an optional card description. You will not need to enter this information again unless the original card expires or otherwise becomes ineligible and needs to be deleted. You do not need to set up a new debit card or PIN for the P2P service.
Is there a cost to use P2P?
Magnifi Financial members are able to access this service for free, no fees! The recipient pays no fee and receives the full amount you choose to send.
Is this service available outside of the United States?
Currently, the service is only available to eligible transaction accounts within the United States.
Are funds removed from my account immediately?
Sending funds is similar to an ATM withdrawal–funds are immediately debited from your account. The timing of when funds are received depends on the recipient. If the recipient uses a debit card in a participating network (Star, NYCE, Pulse, Shazam, CU24, or Accel), the funds will be available immediately.
If your financial institution is not in a participating network, the transaction is processed via the Automated Clearing House (ACH) Network and funds will be available in 1 to 3 business days, depending on the receiving financial institution's process.
If I have an account at another Financial Institution that does not use P2P, can I send money from that account?
While any eligible account can receive funds, only Magnifi Financial accounts can be used to send funds with the Magnifi Financial digital banking platform.
How do I know P2P is secure?
P2P is built into digital banking, which includes many security features designed to protect your financial information. P2P also utilizes a scrambling PIN pad that requires PIN entry by mouse or touch screen; a PIN cannot be entered by typing numbers. This feature helps keep the transaction secure if your device is infected with viruses or malware that track keystrokes. In addition, the PIN is encrypted so it never travels across payment channels as a numeric PIN.
The PIN pad is branded with the Magnifi Financial logo and only appears after you review the transaction in online banking and click Continue. It opens in front of the Send Money page; you will NOT be taken to another site or "pop-up." You will still be able to see your cardholder information behind the PIN pad.
The last four digits of the card number appear on the PIN pad; the first 12 digits are masked.
What is "Payzur"?
First Data Payzur is the name of the service used to process person-to-person payments. You may see "Payzur" in the platform or in the messages sent to your  payment recipients.
Why do you need my email address?
Messages regarding your transaction(s) will be communicated via email. To learn how your personal information will be used, please review the P2P service Terms and Conditions available within the platform on Digital Banking ("Services" > "Person-to-Person (P2P)").
Will my personal information be shared with the recipient?
Only your name will be shared with the recipient. For more details, review the Terms and Conditions.
What if my recipient does not receive the payment notification?
If the recipient does not receive a notification to claim the funds, they made need to check their email spam filter or junk folder. If you need to resend the message to the recipient, Magnifi Financial can resend the link to the recipient on behalf of the sender. Please contact Magnifi Financial: (888) 330-8482
What if my recipient does not claim the funds I sent?
If the recipient does not claim the funds within 10 days, the funds are returned to your account.
What if I enter the wrong PIN? Why is my card marked as "Disabled?"
You have two chances to enter the PIN correctly before the card is disabled for P2P in digital banking. Your card access to P2P will be reinstated after 24 hours.
Note: If your debit card is disabled in P2P within digital banking, you can still use the debit card for point-of-sale (POS) transactions.
What if I send funds to the wrong number or email address?
Most payments are instant, so as soon as a payment is made, the funds are available to the recipient. If the recipient has not yet received the transaction, Magnifi Financial can cancel the transaction. Otherwise, the recipient must send the funds back to you or give permission to Magnifi Financial to return the funds. Please contact Magnifi Financial as soon as possible: (888) 330-8482
Why did I receive an "exceeds limits" error?
You may have exceeded a limit set for P2P payments. Limits may be set for transaction amounts and counts on an individual transaction or within a specified time period.
How does my information stay current with the P2P service.
On subsequent visits to the P2P service, the system will retrieve current values from digital banking and update the P2P service.

Join the Magnifi Family!
At Magnifi, you're not just a member-owner of an award-winning credit union, you become part of the Magnifi family and receive all the benefits and perks you need to succeed financially.
Am I Eligible?
Become a Member