eStatements
Save paper and space by viewing your account statements, tax forms and notices securely online!
Save time and paper with paperless statements and documents. When you sign up for eStatements, eTax documents and eNotices through Digital Banking you will receive an email notification when your document is available to view online. You can choose to print it, save it to your hard drive or simply view it online.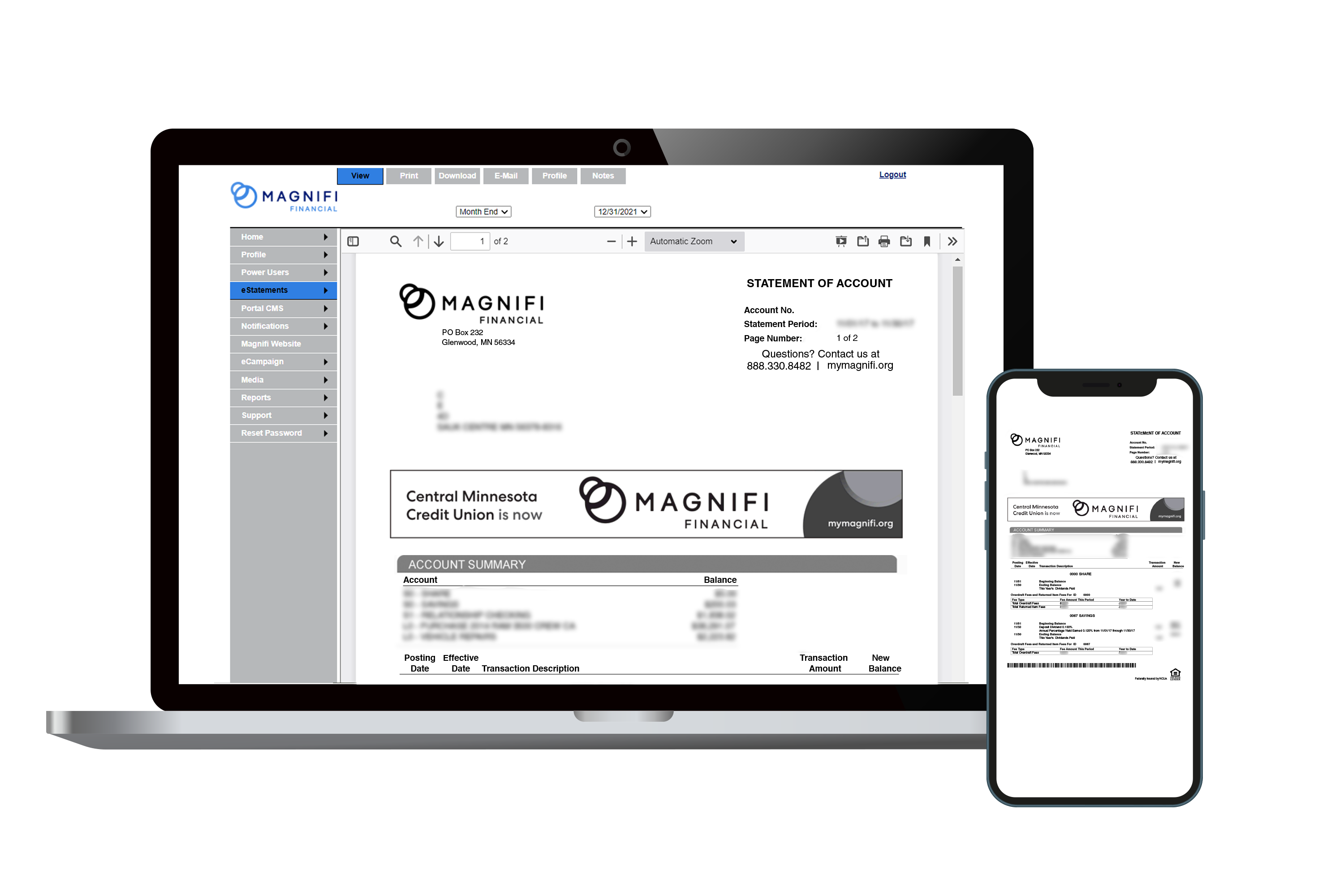 Signing up for eStatements
In the left-hand menu, select "Accounts"
In the drop-down menu, click "Statement/Notice Delivery"
There will be three types of documents for which you can select your preferred delivery method. These are statements, notices, and tax forms. For each of these you can select your preference in the drop down listed under each heading.
Once you have verified your preferred method for the above document types, check the box saying "I accept the E-Statement Delivery Disclosure *"
Click "Submit"
Accessing your eStatements
In the left-hand menu, click on "Accounts" then "Statements"
Select the account for the statement you wish to view
A new tab/window will open with the eStatement site
To view an eStatement, hover over the "eStatements" menu item on the left side of the page then click on "View Statement"
To change the month being viewed, select a date in the drop down menu at the top of the page
eStatements Frequently Asked Questions
What system requirements do I need to meet in order to use the eStatements and eNotices service?
Email address & Internet browser with PDF viewing capabilities (such as Adobe Reader). Or the Magnifi Financial mobile app for Apple or Android devices.
How do I know when my eStatement and eNotices are ready for viewing?
An email notification will be sent to the email address provided on the account.
Do I receive an eStatement each month?
If you have activity on your account, you will receive a monthly statement. For all accounts without a checking share, quarterly statements will be sent.
Is there a cost to receive eStatements and eNotices?
No, eStatements and eNotices are a completely free service for all Magnifi Financial members.
May I set up some accounts to receive eStatements while keeping paper statements for others?
The statements are grouped by Account Number so eStatements can be set up for one Account Number while keeping paper statements for another Account Number.
Will I receive any paper statements after enrolling an account in eStatements?
You will no longer receive statements in the mail, however, you may print your statement directly from your internet banking session, if you require paper documentation.
How long will those statements remain archived within my Internet Banking account?
You will be able to view each statement for 18 months after it has been produced.
How do I update my email address for eStatement notification delivery?
Log in to your Digital Banking account, click on "Preferences" then "Address Change." Update any information you need then click "Submit" at the bottom of the webpage. The changes will take effect immediately.

Join the Magnifi Family!
At Magnifi, you're not just a member-owner of an award-winning credit union, you become part of the Magnifi family and receive all the benefits and perks you need to succeed financially.
Am I Eligible?
Become a Member