RateFlex
High-Yield Business Money Market Account
Your business deserves to earn a little extra with a high-yield money market savings account.
Get an extra boost to your business savings when you choose to add this account to your Magnifi Financial Business Platinum Checking account.
Let's go!
Get in touch with your local Commercial Banking Officer or contact our business team.
Contact Us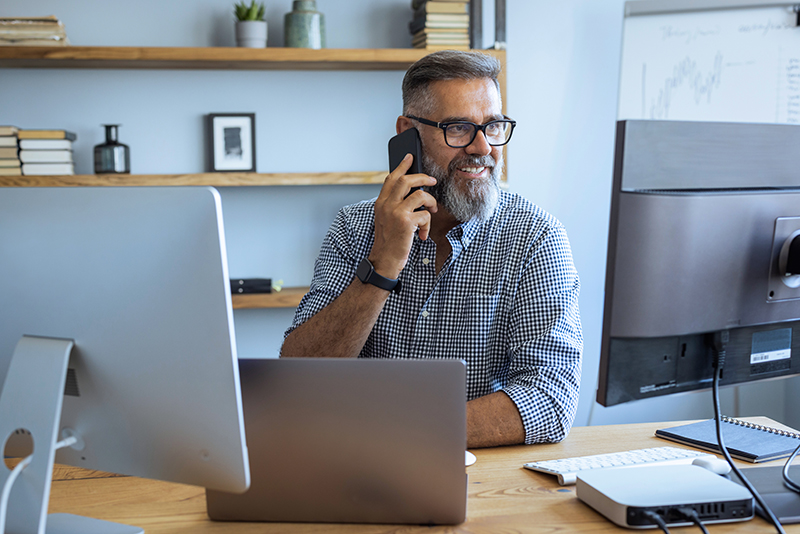 Get Digital

Sign up for Digital Banking (if you haven't done so already) and select eStatements for your business accounts.

Monitor Balance

Keep an aggregate balance of your RateFlex Money Market AND Platinum Checking account above $200,000 each day to qualify for the high-yield rate at the end of the month.

Get Paid

Earn the high-yield rate on balances up to $5 Million each month. Continue to monitor your balance each month to keep qualifying for RateFlex rate.
Account
Details
This Money Market account is an add-on option only for Magnifi Business Platinum checking account holders. The Platinum Checking must have 5 qualifying transactions each month.
$200,000 minimum opening balance for the RateFlex High-Yield Business Money Market.
End-of-business day aggregate balance of the Business Platinum Checking and the RateFlex High-Yield Business Money Market must meet the minimum $200,000. If the account balance drops below the minimum at the close of any day during the month, the account does not qualify for the promotional interest rate for that entire month and would earn the standard Savings rate. The account may qualify for the RateFlex rate at the start of the following month (if requirements are met).
The RateFlex rate will apply to Money Market account balances up to $5 Million. Additional funds over $5 Million will qualify for the standard Magnifi Financial Savings rate.
This money market rate is variable monthly based on the Fed Funds rate.*
RateFlex High-Yield Business Money Market Rates
Account
Dividend Rate
Annual Percentage Yield (APY)
Minimum Opening
Deposit
Minimum Balance to
Earn Stated APY
RateFlex High-Yield Business
Money Market
0.35%
0.35%
$200,0001
$0-$199,999
4.169%2
4.25%2
$200,000-$5,000,000
0.35%3
0.35%3
Additional balance
above $5,000,000
End of business day aggregate balance of Business Platinum Checking and RateFlex High-Yield Business Money Market under the same account number.
Dividend rate based on the lower end of Fed Funds Target range minus 1.00%. Dividend rate will never be less than the current "Savings" dividend rate with no dividend rate ceiling. Any rate updates will occur on the first of the month after the Fed Funds Target rates change.
Dividend rate for balance over $5,000,000 of RateFlex High-Yield Business Money Market under the same account number.
*The RateFlex high-yield rate is calculated at 1% below the lowest bound range of the Effective Federal Funds Rate (EFFR). $200,000 minimum original opening balance required. To be eligible for the RateFlex APY rate, the daily aggregate account balance (Business Platinum Checking plus RateFlex High-Yield Business Money Market) must be $200,000.00 - $5,000,000.00. Government entities, schools, municipalities, and trust funds are not eligible for the RateFlex account. Rates are subject to change at any time and without notice. RateFlex account funds must be new to Magnifi Financial. Other restrictions may apply. Not valid with any other offers. Terms of account are subject to change at any time. Insured by NCUA.

Contact Us
Fill out our online form with some information about your business and the products or services of interest. Your local Commercial Banking Officer will be in touch within 1-2 business days.

Locate a Branch
You can open a business account or loan at any Magnifi Financial location. Each location has a designated Commercial Banking Officer, but we recommend you call ahead to make an appointment.

Call Us
We have a dedicated phone line for business members which will help you reach someone who can help faster and save you precious time.
Click here to learn more about what you'll need for your application.

Join the Magnifi Family!
At Magnifi, you're not just a member-owner of an award-winning credit union, you become part of the Magnifi family and receive all the benefits and perks you need to succeed financially.
Am I Eligible?
Become a Member